1. I have consistently exercised every day this week, which is average for most, but above and beyond for myself. I either ran or walked Monday, Tuesday, and Wednesday. On my Wednesday run my legs felt like they were 500 pounds each so last night I chose to do this Fitness Blender workout which I thought would be easy. LOL. My abs are burning as I type this.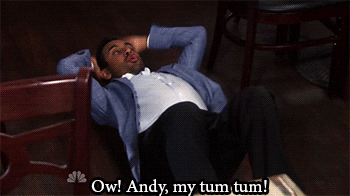 2. I've been staying up WAY past my 10PM bedtime every night this week for no reason to watch Pretty Little Liars and I am so exhausted. I cannot wait to sleep in this weekend.
3.
How Well Do you Really Know the Bachelor Ben Higgins?
NOT WELL ENOUGH, apparently. I only got 8 out of 12 right. I feel like I'm borderline stalker with this people, I should have done better.
4. If you need something to watch on Netflix, please watch Iliza Shlesinger's stand up. She's hilarious and if you enjoy inappropriate and crude humor – which I do – you will love it.
5. I poured chunky milk into my coffee on Monday morning, so I think it's safe to say I'm ready to get this week the hell over with. Have a good weekend!